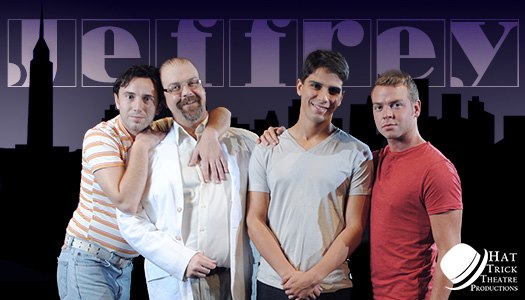 Jeffrey
December 7th - December 23rd 2012
Shimberg Playhouse at the David A. Straz Jr. Center for the Performing Arts Tampa, FL
Audiences often imagine that a comedy about AIDS is impossible. However, throughout all the love, death and wisecracks, Hat Trick will show you just how possible it can be. Using a perfect blend of romantic comedy, wild farce and real emotion, Jeffrey is a tribute to people who battle disease and fear with passion, humor and style.
Jeffrey, a gay actor/waiter, has sworn off sex after too many bouts with his partners about what's ""safe"" and what's not. In gay New York City, though, sex is not something you can avoid. Whether catering a ditzy socialite's ""Hoe-down for AIDS"", cruising at a funeral, at the gym, or in the libidinous hands of a father-confessor, Jeffrey finds the pursuit of love and just plain old physical gratification to be the number one preoccupation of his time – and the source of plenty of hilarity. Suddenly, just after he's reconciled himself to celibacy, Jeffrey's flamboyant friends introduce him to the man of his dreams, who also happens to be HIV positive.
In this, the most out (and outrageous) romantic comedy ever written, Paul Rudnick skewers every gay stereotype imaginable while fearlessly celebrating what makes the gay life-style so compelling and controversial.
Press Highlights
Jeffrey is Aging Gracefully --- There's a lot of anguish behind the robust humor of Paul Rudnick's Jeffrey, the anguish of a writer fully cognizant of the AIDS epidemic and determined not to minimize it even as he spreads wisecracks far and wide... \n\n\n Hat Trick Theatre's 'Jeffrey' is a witty take on love, loss and AIDS --- TAMPA — Jeffrey opens with the title character announcing that he loves sex — "One of the truly great ideas" — but that he is giving it up. It's Manhattan in the early 1990s, and gay men are dying of AIDS at such an alarming rate that even safe sex doesn't seem like an option...